Special Upcoming Workshops
and Hawaii Retreat
---
Gentle Yoga on the Big Island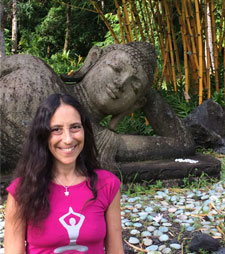 Devorah Blum
November 7 to November 14, 2017
Enjoy a relaxing seven day Yoga Vacation at Kalani Oceanside Retreat Center on the Big Island of Hawaii with three hours of yoga and three delicious meals each day.
This gentle retreat combines strengthening, stretching and relaxing with careful attention to proper alignment. Students are taught to listen to their bodies and modify poses according to their individual needs. The classes are lighthearted and fun. The first part of each day's yoga focuses on developing a well-rounded practice, while the second part explores gentle stretches and restorative poses for deep relaxation.
In addition to yoga, there is time each day to relax by the pool, enjoy a beautiful black sand beach, soak in thermal warm ponds, go snorkeling or visit the nearby volcano or botanical gardens. There is also a lovely short walk to a point where you can watch the sunrise over the ocean.
About the Facilitator(s)
Devorah Blum
Devorah Blum began to study yoga in 1975, becoming a dedicated student of Iyengar Yoga at an early age. She learned from senior Iyengar teachers and spent time in India in 1985 where she studied with BKS Iyengar, Gita Iyengar and Prashant Iyengar. She also completed two "Relax & Renew" trainings with Judith Lasater where she learned to teach restorative yoga.
Devorah has been teaching yoga since 1986. She has owned and directed Yoga Studio Ganesha in northern California since 2000. Devorah's depth of understanding of the postures along with her attentiveness, compassion, and sensitive guidance allow her to inspire and nurture each student. In her fun, gentle class, she teaches healthy ways to stretch, strengthen, balance, and open in the poses. Her soothing voice and use of restorative yoga helps students to finish class feeling deeply relaxed.
To Register:
Devorah is accepting registration and tuition for Gentle Yoga on the Big Island and can provide information on retreat curriculum.
Here are the lodging choices and prices for the 7 day retreat.
Lodge double w/ shared bath: $1493 per person
Lodge room single w/ private bath: $2025
Bungalow double: $1745 per person
Bungalow single: $2165
Tree House triple: $1675 per person
Tree House double: $1850 per person
Price includes includes three meals a day, three hours of yoga a day, accommodations, and use of Kalani's facilities, including a 25 meter pool, hot tubs and a sauna.
Please call or email for more information.
Phone: (707)824-1198
Email: devorah@yogastudioganesha.com
WWW: www.yogastudioganesha.com
Visit www.kalani.com to learn more about the facility.
---
Summer Yoga Camp for Teen Girls
Cindy Sims
June 26-30, 2017, 1-4 PM
Cost $275
Explore yoga through asanas (poses), pranayama (breath work) and meditation. Discover ways to build strength and flexibility, reduce stress, and find coping mechanisms for the demands of high school and college. Learn basic principals of Ayurveda, including self care routines. No prior yoga experience is necessary.
Contact Cindy for more info and registration: (707) 753-0744.
---
Yoga to the Core
Elizabeth Rakestraw
Tuesdays, 5 PM to 6:15 PM,
June 6 through June 27
$60 for four classes, or $20 drop in
Get in touch with the center of power and energy that is your core. Learn how to practice deep core strengthening poses using the breath and proper alignment. Also, release tension in the hips, shoulders and low back, creating more space for energy to flow.
For more information and registration, contact Elizabeth at (707) 537-5746 or siiren007@yahoo.com
---
The Magic of Self Care
sara k. woll
Friday, June 23, 10 AM – noon
Saturday, June 24, 10 AM – noon
$40/ day, (child care and snacks included!)
This workshop includes yoga, meditation, relaxation and an opportunity to create an individualized self care plan. It is a lesson in making self care a top priority in our lives. sara will facilitate a conversation about our resistance to self care and offer mindset shifts, yoga practices and ideas about how to take excellent care of ourselves.
Bring a notebook and your favorite set of colored pencils or markers and take the opportunity to slow down and reflect upon the way you want to feel. Self care is essential, and making a plan and sharing your intention with the other people in this workshop brings results.
sara k. woll is a dreamer, a mama, a yoga teacher and a wellness coach for women. She believes that magic arises in the mundane when we are present and loved up enough to see it.
Call or email Sara to sign up for one or both days: sarakwoll@gmail.com
(707) 479-6955