Special Upcoming Workshops
and Hawaii Retreat
---
Gentle Yoga in Hawaii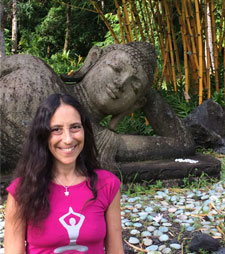 Devorah Blum
Gentle Yoga in Hawaii
Thursday December 27, 2018 - Thursday, January 3, 2019
Devorah's yoga retreat is moving to a new spot because of the lava flowing on the Big Island. The new location will be at Windward Retreat Center in Kaaawa, Oahu.
Devorah's gentle retreat combines strengthening, stretching and relaxing with careful attention to proper alignment. Students are taught to listen to their bodies and modify poses according to their individual needs. The classes are lighthearted and fun. The first part of each day's yoga focuses on developing a well-rounded practice, while the second part explores gentle stretches and restorative poses for deep relaxation.
In addition to yoga, there is time each day to explore the area which is surrounded by beautiful beaches and mountains.
All levels of students will benefit from this retreat and will leave feeling relaxed and rejuvenated.
Facilitator: Devorah Blum
devorah@sonic.net
(707) 824-1198
www.yogastudioganesha.com
Devorah Blum began to study yoga in 1975, becoming a dedicated student of Iyengar Yoga at an early age. She learned from senior Iyengar teachers and spent time in India in 1985 where she studied with BKS Iyengar, Gita Iyengar and Prashant Iyengar. She also completed two "Relax & Renew" trainings with Judith Lasater where she learned to teach restorative yoga.
Devorah has been teaching yoga since 1986. She has owned and directed Yoga Studio Ganesha in northern California since 2000. Devorah's depth of understanding of the postures along with her attentiveness, compassion, and sensitive guidance allow her to inspire and nurture each student.
In her fun, gentle class, she teaches healthy ways to stretch, strengthen, balance, and open in the poses. Her soothing voice and use of restorative yoga helps students to finish class feeling deeply relaxed.
---