Special Upcoming Workshops
and Hawaii Retreat
Gentle Yoga Big Island
Monthly Women's New Moon Gathering
Blindfolded Yoga
---
Gentle Yoga on the Big Island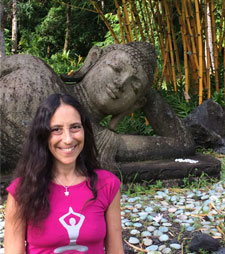 Devorah Blum
April 17-23, 2017
Click to view Registration Information
Enjoy a relaxing six day Yoga Vacation at Kalani Oceanside Retreat Center on the Big Island of Hawaii with three hours of yoga classes and three delicious meals each day.
This gentle retreat combines strengthening, stretching and relaxing with careful attention to proper alignment. Students are taught to listen to their bodies and modify poses according to their individual needs. The classes are lighthearted and fun.
The first part of each day's yoga focuses on developing a well-rounded practice, while the second part explores gentle stretches and restorative poses for deep relaxation.
In addition to yoga, there is time each day to relax by the pool, enjoy a beautiful black sand beach, soak in thermal warm ponds, go snorkeling or visit the nearby volcano or botanical gardens.
This year, the Merry Monarch Festival is coming to Hilo while we are there, so we can go see some of the best hula dancers! There is also a lovely short walk to a point where you can watch the sunrise each day over the ocean.
About the Facilitator(s)
Devorah Blum
Devorah Blum began to study yoga in 1975, becoming a dedicated student of Iyengar Yoga at an early age. She learned from senior Iyengar teachers and spent time in India in 1985 where she studied with BKS Iyengar, Gita Iyengar and Prashant Iyengar. She also completed two "Relax & Renew" trainings with Judith Lasater where she learned to teach restorative yoga.
Devorah has been teaching yoga since 1986. She has owned and directed Yoga Studio Ganesha in northern California since 2000. Devorah's depth of understanding of the postures along with her attentiveness, compassion, and sensitive guidance allow her to inspire and nurture each student. In her fun, gentle class, she teaches healthy ways to stretch, strengthen, balance, and open in the poses. Her soothing voice and use of restorative yoga helps students to finish class feeling deeply relaxed.
---
Monthly Women's New Moon Gathering
Rabbi Daria of Zmanim
Tuesday, March 28
Thursday, April 27
Thursday, May 25

Time: 6:30 PM to 9:00 PM


Zmanim is a nature based spiritual Jewish community in West Sonoma County. Women have traditionally gathered to welcome the new moon/new Hebrew month together for the holiday that falls at this time. The holiday, called Rosh Hodesh (literally "head of the month"), will be a time for opening our hearts through song, reflection, and community.

Connect to yourself, the Source of All, and the unique qualities of this particular new moon cycle. We look forward to celebrating the new moon with you!

6:00 Set up & Snacks
Bring a non-meat snack to share, and an item from nature for our altar
6:30-9 New Moon time!

More details here.
Register here. Discount for advance registration. No one turned away for lack of funds.
---
Blindfolded Yoga
Tara Garland
Sunday, April 30
Time: 2:00 - 3:30 PM


Join us for this Blindfolded Yoga Class to raise awareness & funds for the 4th Annual International "Yoga for Sight" Seva Foundation Benefit.

Are you ready to practice yoga's 5th Limb, Pratayahara, the conscious withdrawal of energy from the senses? $15-20 suggested donation. All proceeds from this event will go towards preventing blindness & restoring sight for millions of people! Space is limited, so reserve your spot today!

To register, call Tara Garland (707) 228-3114.
---